Methamphetamine & Chemical Decontamination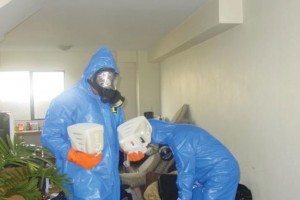 While media has successfully educated the public about how the behaviour of P addicts adversely affects them what is less well publicised is P Pollution i.e. the pollution caused by the manufacture of methamphetamine. For every kilo of methamphetamine manufactured there is a resultant 7-10kgs of waste which is either flushed down the domestic sewage system or storm water drains. The potential damage to public health and the environment through methamphetamine manufacture is reminiscent of the asbestos problems ongoing since the 1970's. It is for this reason that the public should be warned against attempting to clean meth labs themselves. Volatile components in the air can, in the short term, cause problems involving contamination of the eyes, skin and respiratory system. These are well documented. What is less clear are the problems these contaminates might cause later in life. CSS personnel have been working in this area of decontamination for 10 years and have undertaken extensive study into producing industry standards and establishing a proven Meth Lab Decontamination System.
DIY Meth Decontamination – What You Need To Know
If the Clan / P lab has been raided by the police the regional council will be alerted, a note will usually be placed on the LIM report and a Cleansing Order enforced
Council will not remove the Cleansing Order unless the site is lab tested (by a recognised testing laboratory) and decontaminated by a company of "certified professionals experienced in clandestine drug laboratory decontamination using appropriate methods and personal protective equipment" Ministry of Health "Guidelines for the Remediation of Clandestine Methamphetamine Laboratory Sites. You will need to be able to interpret the lab report in order to select the appropriate cleaning chemicals – avoid using solutions which might react negatively with the meth ingredients e.g. bleach.
Unless tested otherwise you must treat all contents of a clan / P lab as contaminated waste and dispose of in a certified waste tip (insure you get a certified carrier to remove).
The chemicals (precursors) used in the production of methamphetamine are highly volatile and may explode without warning. Some precursors are known to be carcinogenic (cancer causing). Ensure you are using the correct PPE – masks and suits (not dust masks or coveralls from hardware shops) to protect yourself.
Be aware and protect yourself from hazards such as needles, syringes or blades (used for cutting the drugs) that may be concealed in unexpected areas.
Ētahi mahi puretuku i te ngāngara pī
Mēnā ka whakaekehia tētahi taiwhanga ngāngara pī e ngā pirihimana, ka whakamōhiohia te kaunihera ā-rohe, ka tuhia ki te pūrongo LIM me te tuku i tētahi Whakatau Horoi
. Kāore e hikina e te kaunihera te Whakatau Horoi kia aromātaihia rā anō e tētahi taiwhanga pūtaiao (tētahi taiwhanga pūtaiao whakamātau whai mana), kia whakawāteatia rā anō e tētahi kamupene o "ētahi mātanga e matatau ana ki te whakawātea taiwhanga hanga puku i ngā mātū whakapōauau mā te whakamahi tikanga tōtika me ngā utauta whakamaru whaiaro" "Ngā Aratohu Haumanu Wāhi Taiwhanga Mahi Puku i te Ngāngara Pī" a Te Manatū Hauora. Me mōhio koe ki te whakamārama i te pūrongo taiwhanga pūtaiao kia pai ai te whakarite i ngā matū horoi tōtika – kaua e whakamahia ngā matū ka hohe kinotia ki ngā kai mō te pī, hei tauira te whakatoki
Me mātua whakarite koe kia putua katoatia ngā mea katoa o te taiwhanga mahi pī ki tētahi putunga para tika (me tiki ko tētahi kaikawe whaimana hei whakawātea).
Ko ngā matū (kawainga) mō te mahi i te ngāngara pī he tino etoeto, ā, kei pupū ohorere noa iho. He paihana ētahi kawainga (he pūtake o te mate pukupuku). Me whakarite kei te whakamahi koe i ngā PPE tōtika – ngā ārai kanohi me ngā hutu (kaua ngā ārai puehu, ngā kaka 'overalls' o ngā toa) hei tiaki i a koe.
Me tūpato koe me te tiaki i a koe mai i ngā mōreareatanga pēnei i ngā ngira, pūwero, rau rānei (mō te tapahi i ngā matū whakapōauau) e hunaia ana i ētahi wāhi noa.
Décontamination de la métamphétamine
Si la police effectue une descente dans un laboratoire clandestin / de métamphétamine, les autorités locales seront prévenues. Une note sera ajoutée dans le dossier de propriété (LIM report) et un ordre de décontamination sera émis.
. Cet ordre de décontamination reste en vigueur tant que le site ne fait pas l'objet d'une analyse par un laboratoire homologué et d'une décontamination par « des spécialistes des laboratoires clandestins de fabrication de stupéfiants, en utilisant des méthodes et des équipements de protection individuelle appropriés » (« Guidelines for the Remediation of Clandestine Methamphetamine Laboratory Sites » – directives de décontamination des laboratoires de métamphétamine du Ministère de la santé de Nouvelle-Zélande). Vous devez être capable d'interpréter le rapport du laboratoire afin d'utiliser les bons produits chimiques de nettoyage. N'utilisez pas de produits susceptibles de réagir négativement avec la métamphétamine, p. ex. l'eau de javel.
Sauf si les résultats d'une analyse indiquent autrement, vous devez traiter tous les contenus d'un laboratoire clandestin / de métamphétamine comme étant des déchets contaminés et les jeter dans une décharge certifiée (veuillez utiliser un transporteur certifié pour leur déplacement).
Les produits chimiques (précurseurs) utilisés dans la fabrication de métamphétamine sont très volatiles et peuvent exploser à tout moment. Certains précurseurs sont également carcinogènes. Veuillez utiliser les bons EPI – masques et vêtements fermés (pas de masque à poussière ni de salopettes de bricolage) – pour votre protection.
Soyez conscients – et protégez-vous en conséquence – des dangers associés aux aiguilles, seringues ou lames (utilisées pour le mélange des drogues) pouvant être cachées dans des endroits inattendus.
Waar aan te denken in geval van methamphetamine besmetting
In geval de politie een inval in een Clan lab (clandestien lab) / P lab (methamphetamine lab) heeft gedaan, wordt de Gemeente op de hoogte gebracht en een aantekening in het LIM rapport gemaakt. Tevens wordt er een Reinigings Bevel uitgegeven.
De Gemeente zal het Reinigings Bevel pas verwijderen als de locatie is getest door een erkend test laboratorium en ontsmet is door een bedrijf dat gebruik maakt van "gecertificeerde vakmensen die ervaring hebben met het ontsmetten van clandestiene labs die verdovende middelen produceren, en die de juiste methoden en persoonlijke beschermingsmiddelen gebruiken" (Ministerie van Gezondheid, "Guidelines for the Remediation of Clandestine Methamphetamine Laboratory Sites").
U moet alles wat uit een Clan /P lab komt als verontreinigd afval behandelen, tenzij uit testen is gebleken dat het niet verontreinigd is. U moet verontreinigd afval naar een gecertificeerde vuilnisbelt brengen (zorg ervoor dat u een gecertificeerde vervoerder gebruikt).
De chemicaliën (voorlopers) die in de productie van methamphetamine worden gebruikt zijn zeer onstabiel en kunnen zonder waarschuwing vooraf exploderen. Sommige voorlopers kunnen kanker veroorzaken. Zorg ervoor dat u de juiste PBU gebruikt ter bescherming – maskers en beschermingspakken (geen stofmaskers of de overalls die u bij de doe-het-zelf zaken kunt kopen).
Wees alert op en bescherm uwzelf tegen gevaren zoals naalden, injectiespuiten of mesjes (die gebruikt worden om het verdovend middel te snijden). Ze kunnen in ongebruikelijke plaatsen verstopt zijn.
甲基苯丙胺(冰毒)去污措施
如果警方捣毁了秘密毒品制作点,地方政府将得到通知。房屋历史记录(LIM report)通常将予以备案并发出清理命令(Cleansing Order)。
地方政府在该场所经过实验室(一家经过认证的检测实验室)检测及"经过认证的有经验的专业去污公司使用适当的方法和人员保护设备清理秘密毒品制作 点"前,不会撤销清理命令。卫生部制定了"冰毒秘密制作点清理指南"。 您要有读懂实验室报告的能力,以便选择适当的清洁化学品 – 避免使用可能引起负面效果的甲基苯丙胺类溶剂,例如漂白剂。
除非经过检测,否则必须处理秘密制毒点的全部物品并在经过认证的垃圾站丢弃(请务必使用经过认证的运输公司丢弃这些物品)。
生产甲基苯丙胺所使用的化学品(生化物质)具有非常高的挥发性,可能在没有任何征兆的情况下发生爆炸。 某些生化物质具有致癌性。 一定要使用正确的个人防护装备 – 面罩和防护服(不能使用五金商店出售的防尘面罩或连衣裤工作服),保护好自己。
提高防护意识,保护好自己,注意隐秘位置可能存在的危险,如针头、注射器或刀片(用于切割毒品)等。
Meth परिशोधन के लिए सावधानियाँ
यदि Clan/पी लैब पर पुलिस द्वारा छापा मारा जाता है तो रीजनल काउंसिल को (क्षेत्रीय परिषद) सतर्क कर दिया जाएगा, आमतौर पर LIM रिपोर्ट में एक नोट लिख दिया जाएगा और एक सफाई आदेश जारी किया जाएगा
काउंसिल सफाई आदेश को तब तक नहीं हटायेगी जब तक कि साइट का (एक मान्यता प्राप्त परीक्षण प्रयोगशाला द्वारा) परीक्षण नहीं कर लिया जाता, और "उचित तरीकों और व्यक्तिगत सुरक्षा उपकरण का उपयोग करते हुए अप्रकट ड्रग (नशीली दवा) प्रयोगशाला परिशोधन में अनुभवी प्रमाणित पेशेवरों" की एक कंपनी द्वारा, स्वास्थ्य मंत्रालय की " गुप्त या अप्रकट Methamphetamine प्रयोगशाला साइटों के लिए Remediation के दिशा निर्देशों के अनुसार परिशोधन नहीं कर दिया जाता। सफाई के उचित रसायनों को चुनने के लिए आपका प्रयोगशाला की रिपोर्ट की व्याख्या करने या उसे समझने में सक्षम होना जरूरी है – ऐसे घोल का प्रयोग करने से बचें जिसका प्रयोग मेथ सामग्री के साथ नकारात्मक प्रतिक्रिया कर सकता है जैसे कि ब्लीच।
जब तक जाँच में कुछ अन्य प्रकट हो, आप clan/ P लैब की सारी सामग्री का प्रबन्ध एक दूषित कचरे के रूप में करें और एक प्रमाणित कचरे की टिप में निपटान करें (निश्चित करें कि इसे हटाने के लिए आप एक प्रमाणित वाहक का प्रयोग करें)।
Methamphetamine के उत्पादन में प्रयोग किए जाने वाले रसायन (पूर्ववर्ती) बहुत ही अस्थिर होते हैं और बिना किसी चेतावनी के विस्फोट हो सकता है। कुछ पूर्ववर्तियों को कैंसरकारी (कैंसर के मूल कारण) के रूप में जाना जाता है। सुनिश्चित करें कि आप अपनी सुरक्षा के लिए सही PPE का उपयोग कर रहें हैं – मास्क (नकाब) और सूट (न कि हार्डवेयर की दुकानों से खरीदे गए धूल के मास्क या coveralls) ।
इस बात की जानकारी रखें और अपने आप को ऐसी (नशीली दवाओं को काटने के लिए प्रयोग की गई) सुईंयों, सीरिंजों या ब्लेडों जैसे खतरों से बचा कर रखें जो अप्रत्याशित क्षेत्रों में छुपे हो सकते हैं।
Experience
100% success rate
Our experienced team have been involved in the decontamination of some of the largest P labs to date in Auckland and over a hundred others nationwide, with a 100% success rate
Stringent safety measures
Proven Decontamination Process
Our Permit to Work process – our re-test protocol – proves the decontamination process
Detailed quotation process
Registered with NZ city councils
Listed supplier to the NZ Insurance Council
Why Choose Us?
CSS management have been working in this area for 10 years.
CSS management have undertaken extensive study, producing Standards for the industry
Our staff have been involved in the decontamination of some of the largest P labs to date in Auckland and more than 100 nationwide with a 100% success rate
Our trained technicians can carry out on site swab tests for the five most used narcotics
Want to know more about Methamphetamine?
What is it?
A.k.a. crank, speed, crystal, ice or P
A powerful, highly toxic, lethal drug
Illegally cooked in makeshift labs
Sold as pills, capsules, powder or chunks
Can be smoked, snorted, injected or eaten
Current Figures:
"On average Customs reports one drug interception a day, with 90% being precursors for the manufacture of methamphetamine, also known as P. Since June 2007 Customs has intercepted more than 1456kg of methamphetamine precursors and more than 36kg of pure methamphetamine." Mike Evans, Communications Advisor New Zealand Customs Service
Long term effects of Meth abuse
Cancer
Brain Damage
Birth Defects
Genetic defects
It can also cause health problems not just for users but for anyone exposed to the chemicals
Heavily Contaminated Areas:
Kitchen
Bathroom
Garage
Laundry
Grounds & outside drains
Stove tops
Cupboards
Fridges
Air conditioning
Waste traps
Walls & flooring
Toilets
Sinks
Exposed timber
Glass
Light Fittings
Lightly Contaminated Areas:
Any area away from the immediate manufacturing process
Bedrooms
Lounge
Dining Room
Hall ways
These areas can be contaminated by VOC's settling out
Exterior Contamination
7-10kg of waste for every kilo of meths produced
Waste travels through soil into water table
Public and pets at risk
Neighbouring properties
Drains
Immediate/local environment
 When is it safe to enter?
NO ENTRY until decontamination is completed
Booby Traps
VOC's
Sharps
Cross contamination
Severe health risks
Cross Contamination and Health Risks
All items on the property should be disposed of unless they have been lab tested and show no contamination
Items removed from the property prior to testing pose a health risk to those who remove it or subsequently use it i.e. electrical goods, soft furnishings
Public Health Considerations
If the property containing the P lab is not sealed off – NO ENTRY
Any items removed prior to decontamination may be on sold to an unsuspecting public resulting in:
Personal and property cross contamination
Decontamination is extremely difficult for electronic equipment
Who Pays?
The Tax Payer
Public Health
Law Enforcement
Rehab
Social Welfare
Insurance Companies
Landlords
Home Owners
Who is at risk?
Real Estate Agent / Property Owner
New Tenants
Trades people e.g. plumber, carpet layer etc
Housing Inspectors
Healthcare workers e.g. Plunket etc
Children and Neighbours
Any person who enters the property!
Who should clean a "P" lab?
Property owners should be strongly advised against cleaning a lab themselves!
Cleaning will not meet council requirements
Cleansing order will remain in force
Health risks to owner
Inadequate PPE
Cross Contamination
Chemical reactions
Health hazards for future occupants
Key Trends – Survey of New Zealand meth scene changes
The popularity of smoking methamphetamine as opposed to the previous tradition of snorting
The emergence of injecting methamphetamine
The prevalence of pure crystal forms of methamphetamine as opposed to cut powder
Increased number of methamphetamine users coming to the attention of Police and drug treatment
The easy availability of methamphetamine
Greater cross section of society now using methamphetamine
Sale of methamphetamine from cannabis tinny houses
Marketing of methamphetamine to lower socio-economic groups
Violence and property crime associated methamphetamine use
Increased drug dealing by methamphetamine users
Serious violence and domestic violence associated with methamphetamine