Protect your family and your family home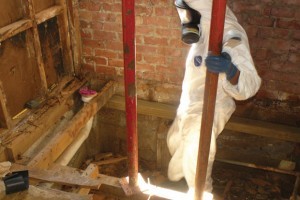 The presence of mould is not always obvious. Mould may exist behind wall lining and in roof spaces for some time causing residents continued respiratory discomfort and only become evident when the spores penetrate surfaces and discolour facings.
Our photo gallery below provides an example of the damage mould will do when left unchecked.
The property residents were experiencing chronic respiratory problems before our arrival. This property required the use of an Air-Scrubber for several days allowing our staff to start work immediately, removing contaminated timbers and reinstating the bathroom area. Happily our client and his family are now experiencing good health.
The CSS Plan of Action
Visit the site
Produce a report with recommendations for action
Supply a quote to rectify
Carry out the work making sure

Mould spores are contained – no cross contamination
Household members are safe
Work on time to budget
After the flood water has gone
Mould is often the largest problem when a household has been flooded. Mould can create an enormous amount of damage if not treated promptly. It grows at a fast rate when moisture is present and can cause a home to require complete renovation, which can be a costly process.
DIY Mould Decontamination – What You Need To Consider
Mould poses significant health hazards make sure the person removing mould is protected with appropriate PPE (personal protection equipment).
Mould is a living organism requiring specific chemicals to eliminate. Remember many off the shelf cleaners will simply bleach the mould providing only a temporary visual fix.
Wiping down can disperse spores to settle in other areas so mould will appear on new surfaces. Make sure you have a containment plan and Airscrubber available.
Mould can affect the structural of a building. Check plans before you remove anything.
Mould affected fittings and furniture should be treated as contaminated waste and disposed as such
Ētahi mahi ina tūkinohia e te kōpuru
Ka pāngia te tangata e te mate i te kōpuru, me mātua whai PPE (utauta whakamaru whaiaro) tōtika te kaiwhakawātea i ngā kōpuru.
He kaiao ora te kōpuru, ā, me whai matū hāngai tonu hei whakakore. Kia mōhio mai koe, ko te nuinga o ngā matū horoi o te toa ka horoi noa i te kōpuru kia kaua e kitea atu mō tētahi wā.
Ki te mukua ka hora haere pea ki ētahi atu wāhi e tipu ai te kōpuru ki wāhi hōu. Me mātua whakarite he mahere whakarite me tētahi Airscrubber.
Ka hē te hanganga o te whare i te kōpuru. Tirohia ngā mahere i mua i tō whakanekeneke mea haere.
Ko ngā whakarawe me ngā taputapu whare kua kōpurutia me putu pēnā anō
Décontamination des moisissures
Les moisissures constituent un risque sanitaire considérable. Il faut veiller à ce que les personnes en charge de l'élimination des moisissures soient protégées avec un EPI approprié.
Les moisissures sont des organismes vivants dont l'élimination nécessite des produits chimiques spécifiques. Veuillez noter que de nombreux produits de nettoyage disponibles dans le commerce ne font que blanchir la moisissure et ne règlent le problème que de façon temporaire et visuelle.
L'essuyage peut favoriser la dissémination des spores dans d'autres zones et encourager l'apparition de moisissures sur de nouvelles surfaces. Vous devez avoir un plan de confinement et un absorbeur-neutralisateur.
Les moisissures peuvent affecter l'intégrité structurelle des bâtiments. Vérifiez les plans avant d'enlever quoi que ce soit.
Les équipements et les meubles affectés par les moisissures doivent être considérés comme étant des déchets contaminés et éliminés en tant que tels.
Waar aan te denken in geval van schimmel
Schimmel levert een significant gevaar voor de gezondheid op, dus zorg ervoor dat diegene die de schimmel verwijderd beschermd is met de juiste PBU (Persoonlijke Beschermings Uitrusting).
Schimmel is een levend organisme en heeft specifieke chemicaliën nodig om uitgeroeidte worden. Onthoudt dat vele vrij verkrijgbare schoonmaakmiddelen alleen de schimmel bleken, wat slechts een tijdelijke visuele oplossing is.
Het afnemen van schimmel kan schimmelsporen verspreiden naar andere ruimtes, waar het vervolgens opnieuw kan opkomen. Zorg ervoor dat u een plan van aanpak voor het bedwingen van de schimmel heeft en dat u een speciale schimmel stofzuiger tot uw beschikking heeft.
Schimmel kan de bouwconstructie aantasten. Controleer de bouwtekeningen voordat u iets verwijderd.
Armatuur en meubilair die door schimmel zijn aangetast dienen als verontreinigd afval behandeld te worden en als zodanig verwijderd te worden.
霉菌去污措施
霉菌会对健康产生极大的危害。确保霉菌去污人员得到适当的个人防护装备的保护。
霉菌是活的微生物,需要特殊化学品进行去除。 请记住,大多数货架上的清洁剂只是简单地对霉菌进行漂白,只是提供暂时的视觉效果。
擦拭可使孢子散布到其它地方并在新的表面扎根生长。 确保制定防污设计图并装备空气洗涤器。
霉菌可影响建筑结构的整体性。 去除任何东西前先核对设计图。
受霉菌影响的用具和家具应作为受到污染的废物进行处理和丢弃。
मोल्ड डीकन्टेमिनेशन (फफूंदी परिशोधन) के लिए सावधानियाँ
फफूंदी स्वास्थ्य के लिए भारी खतरा पैदा करती है, इसलिए सुनिश्चित करें कि फफूंदी को हटाने वाला व्यक्ति उपयुक्त पीपीई (व्यक्तिगत सुरक्षा उपकरण) से सुरक्षित है।
फफूंदी एक जीवित ऑरगनिज़्म (जीव) है जिसे नष्ट करने के लिए विशिष्ट रसायनों की आवश्यकता होती है। याद रखें कि बाज़ार से खरीदी गई सफ़ाई की आम वस्तुएं फफूंदी को बस ब्लीच कर देंगी जो केवल दिखने में अस्थायी समाधान होगा।
पोंछने से स्पोर्स (बीजाणु) अन्य इलाकों में फैल सकते हैं जिससे फफूंदी नई सतहों पर दिखाई देगी। सुनिश्चित करें कि एक नियंत्रण योजना और एयरस्क्रबर उपलब्ध है।
फफूंदी से इमारत की संरचनात्मक शुद्धता प्रभावित हो सकती है। कुछ भी निकालने से पहले प्लान (नक्शे) की जाँच कर लें।
फफूंदी से प्रभावित फिटिंग और फर्नीचर का कन्टेमिनेटिड वेस्ट (दूषित कचरे) के रूप में इलाज किया जाना चाहिए और इसी रूप में उसका निपटारा किया जाना चाहिए।
Health Implications
Mould becomes a serious problem when it lands on a wet or damp spot and begins growing. One such mould, stachybotrys chartarum grows on water damaged materials such as ceiling tiles, insulation, wood and wall linings. It is capable of producing toxins which can cause serious health issues. Individuals who have been exposed to this fungus show symptoms such as:
sore throats
allergies and sinusitis
immune system suppression
headaches and fatigue
dermatitis
It is particularly harmful to those with respiratory problems such as asthma and emphysema.
Mould is a Hazard so treat it as such – call in the Experts
Due to the nature of the stachybotrys chartarum mould it is recommended by Health Experts that persons employed to carry out this type of repair work must be trained in the removal of contaminated debris and when doing so must be protected by the use of breathing apparatus and protective clothing.
All mould has the potential to cause health problems such as allergic reactions sneezing, runny nose, red eyes, and skin rash. It can also irritate the eyes, skin, nose, throat, and lungs.
Immediate action is important and our staff are fully versed in the professional method of dealing with this problem including the use of zip walls and Air Scrubber to prevent spore migration and cross contamination.. Once established, mould is extremely difficult to eliminate, frequently causing problems for many months after the remediation and recovery effort are accomplished. Odour from mould and mildew accumulation can also have an unpleasant effect in your home.
Contact Contaminated Site Solutions we will use the latest Technology to remove mould odour and microbial spores as quickly as possible, so you can return your home to pre mould conditions.